The Performance Story
Performance celebrates 30 Years in the Events Industry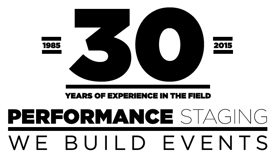 We've come a long way in 30 years. Today our clients range from local banquet centers to large fortune 500 companies such as Walt Disney Corporation and Ford Motor Company.
Performance provides everything from bleachers for national sporting events to stages for headlining concerts. With a 30,000 sq ft warehouse stocked full of event products in Michigan, and a production warehouse location in Lakeland, we offer a large and dedicated inventory across the Midwest and Florida.
Call 734-420-1000 to be connected to one of our experienced representatives today.
LOCATIONS
Our HQ is in Plymouth, Michigan, just outside of Detroit. From there we service the entire Midwest easily. In January, 2014 we re-opened our Florida location and chose the city of Lakeland for its easy access to Orlando, Tampa, and both coasts.
MICHIGAN
Michigan Stage Rental | Michigan Bleacher Rental
Michigan Audience Riser Rental | Michigan ADA Ramp Rental | Michigan Barricade Rental | Michigan Mobile Stage Rental
FLORIDA
Florida Bleacher Rental | Florida Stage Rental | Florida Mobile Stage Rental | Florida ADA Ramp Rental | Florida Pool Cover Rental